 
Mini Rider Cub Cadet LR1 MS76 - Mechanic
COMPACT AND VERSATILE LIKE NO ONE ELSE
Modern design, versatility and a perfect cut of the grass: these are just three of the main features of the Cub Cadet MINI-RIDER. The agile and compact Cub Cadet MINI-RIDERS are equipped with one of the most performing and reliable Cub Cadet motors and require very little maintenance.
If you need the collection system, side discharge or mulching system to cut your lawn, MINI-RIDER Cub Cadet are ideal. Thanks to their particular design, Cub Cadet MINI-RIDERS do not take up much more space than a traditional lawn mower.
DETAILS
MINI-RIDER
Cutting width (cm): 76
Transmission: Transmatic
Nominal power kW / min -1: 8,6 / 3200
Work area in m 2 / h: 3000
Bag capacity (l): Optional 115
Secure SSL Encryption
Express Shipping
14 days money back guarantee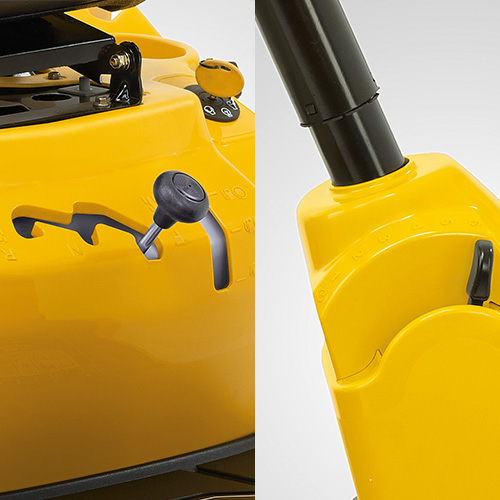 TRANSMATIC TRANSMISSION
Transmatic shift on the go transmission allows you to control speed in real time. To start working, just select the direction of travel and set the desired speed. The Cub Cadet LR1 MR76 riders allow you to choose between 6 forward and 6 reverse speeds.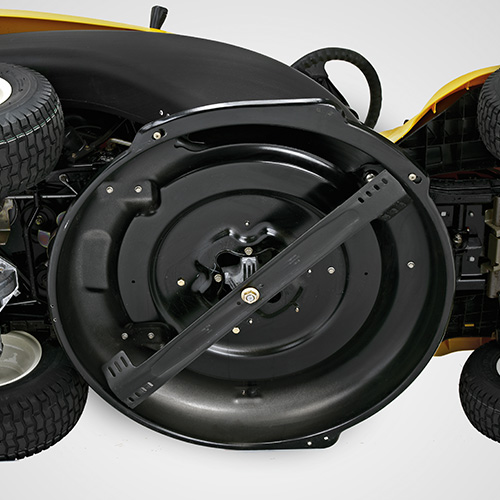 CUTTING PLATE 76 CM
For the LR1 MR76 model you can choose between collection, unloading or mulching. While for the LR1 MS76 model you can choose between side discharge and mulching. Excellent mulching, efficient side discharge and perfect collection. Whichever method you choose, the MINI-RIDER will do it perfectly.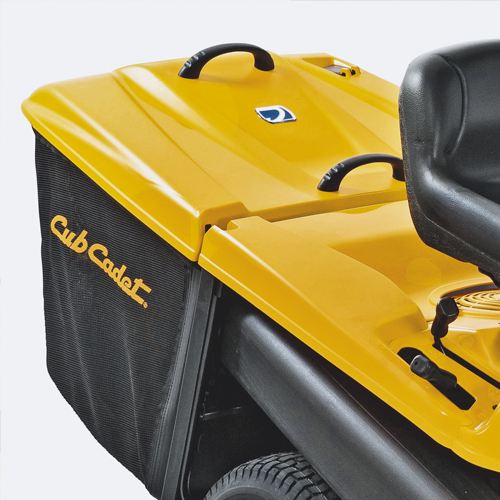 COLLECTION BASKET 200 L
With hard-top (models LR1 MR76 and LR2 NR76), soft-grip handle and full bag indicator. It can be emptied while sitting comfortably.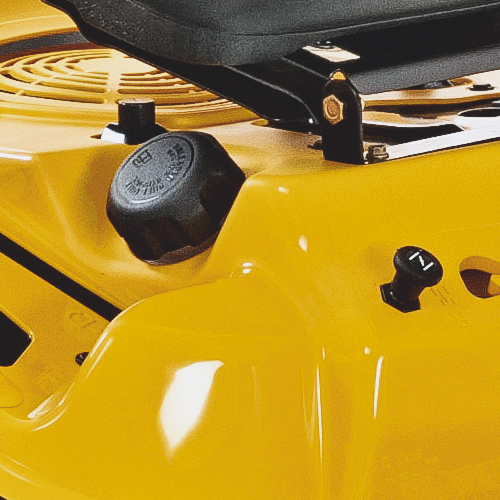 4.9 L TANK
The tank, spacious and equipped with a level indicator for fuel, allows you to mow the lawn in a single cycle, without having to stop to refuel.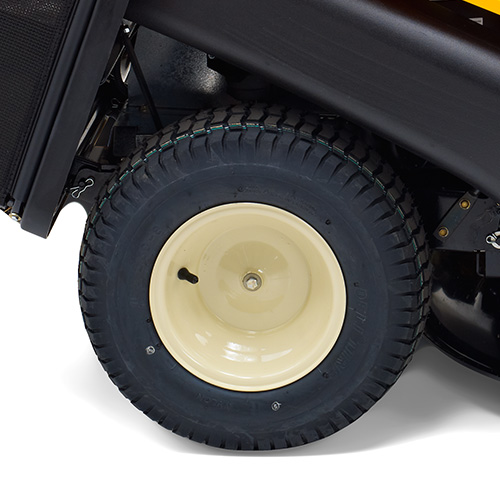 WIDE WHEELS
Kind to the lawn, stable on all terrains.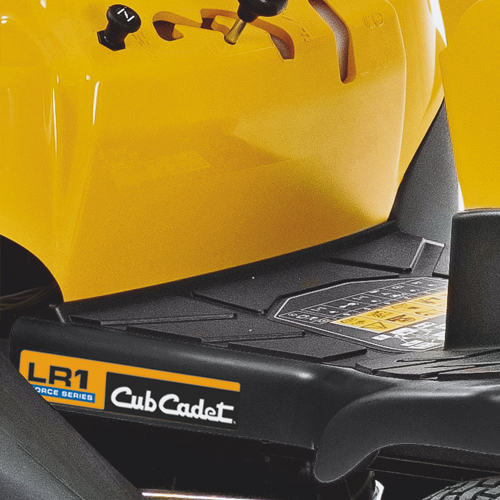 STEP-THROUGH FRAME
With non-slip rubber footrest for easy operator access.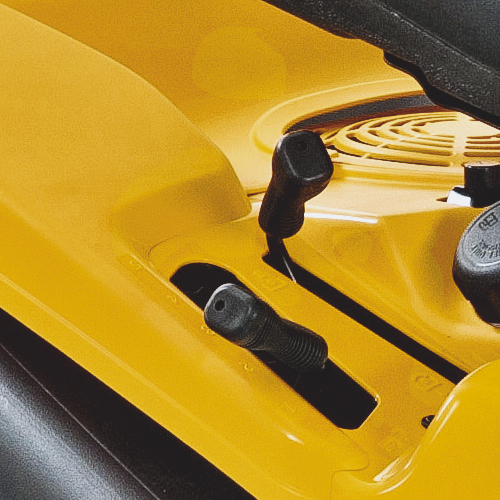 ADJUSTING THE HEIGHT OF CUTTING AND GRAFTING BLADES
The cutting height can be easily adjusted in 5 positions between 38 mm and 95 mm; the cutting deck can be activated and deactivated using the dedicated lever. Both levers are located on the right side of the seat.
DATA SHEET
ENGINE
Cub Cadet OHV engine
Displacement (cm3) 382
Nominal power (kW / min-1) 8,6 / 3200
cylinder Displacement
Tank capacity Liters 4.9
Lubrication Automotive style pressurized oil pump with external filter
TRANSMISSION
Transmatic transmission
Max speed 6 (a / i), shift-on-the-go
Foot control
CUTTING SYSTEM
Work area (m2 / h) 3000
Cutting width (mm) 76
2-in-1 cutting options
Number of blades 1
Cutting height (mm) 38 - 95
Manual blade engagement with levers
Plate height positions 5
Washing nozzle / Mulching plug Standard / Standard
EXHAUST SYSTEM
Bag capacity (l) / accessory no. Optional 115 / (19A30014OEM)
Basket / hardtop lever - / - Full bag indicator / Deflector - / Standard
Bag capacity Optional 115
FRAME
Front axle Steel
Front bumper -
Turning radius cm. 46
Wheels (A / P) (Zoll) 13 x 5/16 x 6.5
Wheel bearings
Easy access frame Easy access frame
ELECTRIC
12V battery, 115 CCA
Lights -
KOMFORT
Seat Medium back
Screw seat adjustment
Steering wheel Standard
Reverse cut (RevTEK) -
196-967-678 Charger
DIMENSIONS
LpA / LwA / LwAg (dB) (dB) 88/98/100
Body value vibration (K-factor) (m / s2) 1.0 / 0.5
 Hand uncertainty value (K-factor) (m / s2) 5.0 / 1.5
Dimensions (P / L / H) (cm) 157/85/112
Net weight (kg) 127
You might also like