 
Generator Honda EG 4500CL D-AVR KVA 4,5
EG 4500CL
D-AVR 4500w generator, long life for sensitive construction equipment.
These professional generators provide clean electrical energy that can be used in a wide range of sensitive electrical applications such as on construction sites, in the hospitality industry, in emergency services and in home generators.
Secure SSL Encryption
Express Shipping
14 days money back guarantee
Quality of electricity supplied equal to the industrial one.
These generators are robust and reliable. They are equipped with the latest GX engines and are absolutely silent. Thanks to Honda's own voltage output technology, you can use your sensitive power tools for hours without the slightest problem.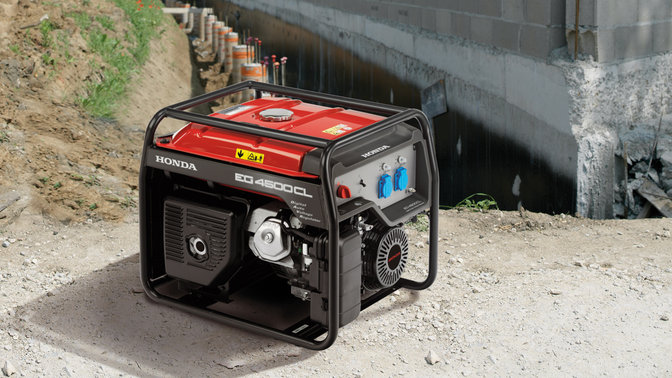 MAIN FEATURES
Oil Alert ™
This is a useful function that avoids damage to the engine, stopping it automatically in case of oil level below the safety limit.
Extended operating time
Sometimes a job can take longer than necessary. This is why we have built a bigger fuel tank to guarantee a continuous and longer lasting operation, with less stress.
Advanced anti-vibration system
Our 45 ° inclined rubber motor mounts allow greater vibration damping than standard straight rubber supports.
OHV 4-stroke engine
Powerful, efficient and absolutely reliable: all Honda features must be guaranteed. Simple starting in all conditions, with automatic decompression to reduce the required thrust force.
TECHNICAL DATA
Generator
Technology D-AVR
type Single Phase
Maximum power (W) 4,500
Continuous use power (W) 4.000
Voltage (V) 230
Frequency (Hz) 50
Current (A) 17.4

Engine
GX390T2 Motor
Type 4 stroke, OHV, * 1 cylinder
Displacement (cm³) 389
Bore × stroke (mm) 88 x 64
Engine revolutions (rpm) 3,000
Cooling system Forced air
Full Transistor Switching
Oil capacity (L) 1.1
Fuel tank capacity (L) 24
Autonomy 9:30 a.m.
Recoil Starter
Sound pressure LwA (dB (A) (98/37 / EC, 2006/42 / EC)) 81
LpA acoustic power (dB (A) (2000/14 / EC, 2005/88 / EC)) 97
Dimensions
Length (mm) 681
Width (mm) 530
Height (mm) 571
Dry weight (kg) 79.5
http://www.honda.it/industrial/products/generators/specialist-open-frame/overview.html
You might also like