 
Screw Compressor KTC Compack 2 Eco Trolley 230 V - 10 Bar
COMPACK
Just one standard: excellence
COMPACK embodies the greatest KTC's technological innovation.
KTC'S Research and Development Dept. oriented towards the greatest user-friendliness of a screw compressor fulfills this approach with COMPACK, thanks to a great number of customized applications and solutions.
The reason is that COMPACK has just one standard: excellence.
COMPACK as a matter of fact is a compact and extremely performing integrated system: all the advantages of an industrial compressor in just a small amount of space.
Integrated system
COMPACK is made up of a state-of-the-art pumping air-end, the most compact in the field, integrating the main components of a screw compressor (air-end, separator tank, thermostatic and minimum pressure valve, intake valve) and being groundbreaking in the choice of materials: a steel core in an aluminum case.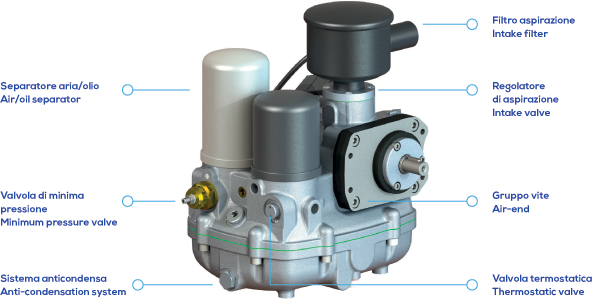 VIDEO
Secure SSL Encryption
Express Shipping
14 days money back guarantee
COMPACK 2 ECO
COMPACK 2 ECO is the ON - OFF ENTRY LEVEL screw compressor with the smallest pumping unit on the market managing automatic load/unload cycle. Compack 2 ECO is the best alternative to the piston compressor with the characteristics of an industrial compressor. Available versions on 2,5 lt, 90 lt tank and Air Trolley with single phase motor
PACK SMART V50
ON-OFF WITH MANAGEMENT OF LOAD/UNLOAD CYCLE

LATEST-GENERATION ELECTRIC MOTOR "MADE IN ITALY"

DIRECT DRIVE MAINTENANCE FREE

ACCESS PORTHOLE FOR EASY MAINTENANCE

OIL HEAT EXCHANGER
COMPACK 2 ECO
Codice
Code
Modello
Type
Potenza Motore
Motor Power
Vite
Screw
Serbatoio
Tank
Pressione Max
Max .Pressure
Portata Aria
Air Flow-rate
L. Sonoro
Sound L.
Volt
Voltage
Attacco
Connection
Dimensioni
Dimensions
Peso
Weight
 
 
Hp
Kw
Lt
Gal
Bar
Psi
ℓ/min
C.F.M.
dB[A]
 
 
L x D x H (cm)
Kg
Lbs
COMPACK 2 ECO A terra / Grounded
180012045


COMPACK 2 ECO
3
2,7
V50
2,5
0.66
10
145
240
8,5
65
230/50/1
QUICK CONNECTOR
67x40x47
46
101.4
COMPACK 2 ECO A terra / Grounded

180012046

COMPACK 2 ECO /90 
3
2,7
V50
90
23,7
10 
145 
240 
8,5 
65 
230/50/1
1/2 Gas
120x45x90 
75
165 
COMPACK 2 ECO Air Trolley

180012047

COMPACK 2 ECO Air Trolley
3
2,7
V50
2,5
0,66
10
145
270
9,5
65
230/50/1
QUICK CONNECTOR
67x55x61
52
114,6
FIELDS OF APPLICATIONS
Mechanical workshops and carpentry
Woodworking and woodworking industries
Laboratories and small production companies
Mobile and racing workshops
Agriculture and gardening
SPECIAL APPLICATIONS
Electric and hybrid buses
Biogas plants
Wood chips
Dynamic cinemas
You might also like